OUR BOOK OF THE MONTH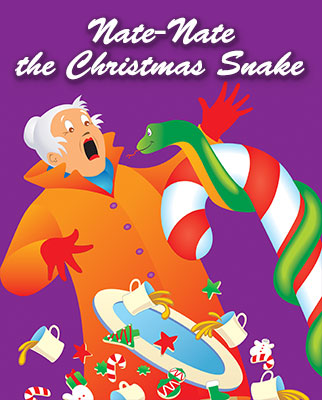 Nate-Nate
the Christmas Snake
Written by Jimmy Huston
Illustrated by Leslie Hodges
NATE-NATE IS NOT
YOUR ORDINARY SNAKE
He may be average, but he's not ordinary. Not at all. He's curious. And friendly. Those are good traits usually, but Nate-Nate knows all too well that no one wants to hang out with a friendly neighborhood snake.
It's a solitary life for young Nate-Nate, slithering among the giants who live above him on Candy Cane Lane, but he never complains.
Snakes don't get holidays (not even Christmas) and aren't too good at making friends -- but perhaps this year will be different -- so Nate-Nate eagerly joins in the happy celebration.
But -- when the neighborhood's joyful holiday mood is threatened, he slithers to the rescue. Alone as usual, and despite being a lowly snake in everyone's eyes, the outcast Nate-Nate bravely stands up to the threat and saves Candy Cane Lane.
Through his adventures he discovers the spirit of Christmas and becomes the legend known far and wide as Nate-Nate the Christmas Snake.  

44 pages
16 beautiful full-color illustrations
8x10